Once you arrive to Dubai, you will find yourself in a huge International Airport. In order to have a stress-free drive to your hotel, book Dubai airport taxi beforehand. One of the trustworthy drivers will be dispatched and waiting for you in the arrival lounge. The driver will hold a sign with your name on it and make sure you can't miss it. Drivers know that flight delays and reschedules happen all the time and they act accordingly. Most importantly, they can speak English and help you with your luggage while escorting you to the taxi. All you need to do is to relax and enjoy a picturesque drive to your hotel.
When people arrive to the airport after an exhausting long flight, they normally want to get to their destination as soon as possible. Taxi drivers understand your concerns and needs and offer a huge variety of transportation options. You can travel alone or in a group, have children or people with special needs. Dubai airport taxi online booking offers comfortable rides, quality service and affordable prices. Taxi drivers value punctuality and respect their clients. They can speak relatively good English. Feel free to ask questions and get more information about the city. Taxi drivers know everything about the best places to visit and can give general guidelines.
How to get a welcome vehicle in the airport
It is very easy to book an airport taxi, Dubai offers a variety of options to tourists. When you book your drive beforehand, you get to drive with the finest drivers available in the city. The booking company has a huge fleet of vehicles suited for your needs. Each vehicle is designed to provide a comfortable ride to a single tourist or a big group of people. There are family sized sedans, practical minivans and many other options.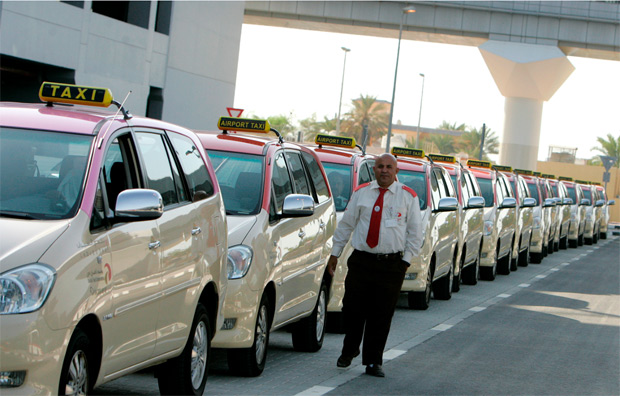 How to travel from Dubai International Airport
Dubai International Airport is the busiest and one of the largest airports in the world; it's easy to get lost there. The place hosts hundreds of flights every day. People from all over the world arrive here. The distance from this airport to Dubai city centre is over 15 kilometers. If you book airport taxi Dubai, it will take around 20 minutes to arrive there. Of course, traffic conditions can prolong the time. In order to get to the city centre the taxi will turn to Casablanca Avenue and then go south to drive the Rashid highway. After some time the road will merge into the Sheikh Zayed Boulevard. The biggest tourist attraction in the city centre is the Burj Khalifa Dubai Mall.
How to travel from Al Maktoum International Airport
Al Maktoum International Airport is the newest airport in Dubai. It is a host for lower tier flights. It removes some pressure from the main airport and is much easier to navigate. However, the airport is far away from the city. You can expect at least a 50 km ride to the city centre. Usually it takes around 40 minutes if you don't get in a traffic jam. The taxi driver will head north and then drive the Sheikh Zayed Avenue. The destination is usually the Burj Khalifa Dubai Mall.
Many people who choose a lower tier flight arrive to Sharjah Airport. Then you will need to get a taxi. Dubai to Sharjah airport taxi fare depends on the official rates in both cities. All taxi cabs calculate prices based on the length of your travel and pick-up times.
How to get to Dubai airport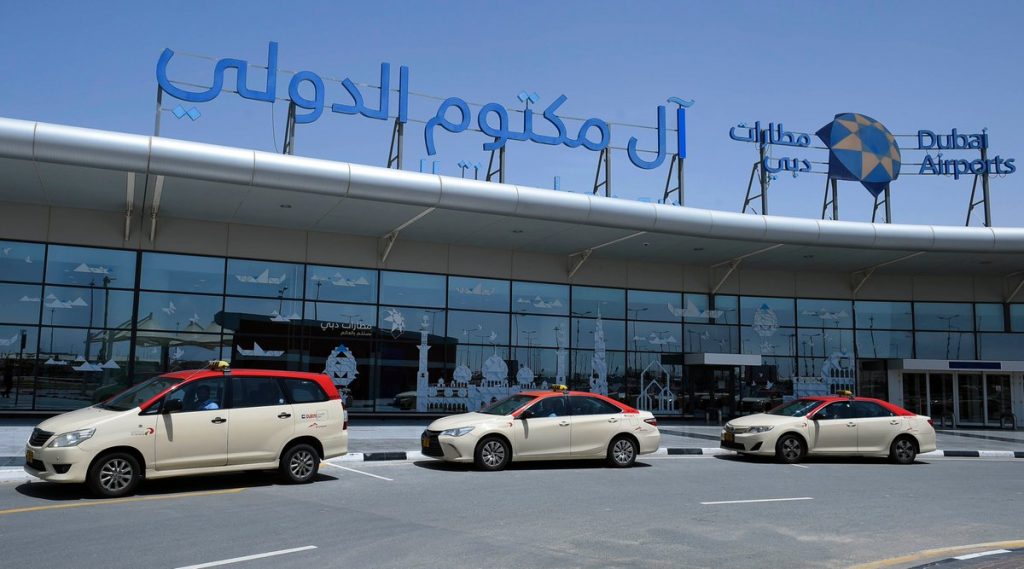 Since Dubai airport is the biggest in the country, many people have to travel there from other cities in Arab Emirates to flight back home. The easiest way to get there is to book a cab. For example, a taxi Abu Dhabi to Dubai airport. It is the most convenient and reliable option. You can easily pre-book your pickup and avoid stress and struggles of traveling public transportation. It's especially convenient if you travel with children or have heavy luggage.
How much should you pay for a ride?
The cost of your travel depends on which airport you arrive at. However, Dubai and Sharjah authorities issue fixed rates every year. Therefore, Dubai to Sharjah airport taxi fare depends on that rate plus how many km you need to drive. It is advised to book a taxi in advance to know the final price beforehand.
What makes Dubai Taxi Services different compared to other companies is a huge selection of vehicle options, which allows you to upgrade your travel experience. Taxi drivers greet clients when they arrive at the airport. They help with luggage and can suggest places to see in different cities of Arab Emirates.
You can also expect customer support and drivers who can speak English. They are trained and licensed to ensure you enjoy a stress-free travel across Dubai. If you have a flight delay, they will wait. The company specializes in transfers and works with the best drivers and cars. Book your next ride beforehand and save time during your next visit.